Fall Welcome Events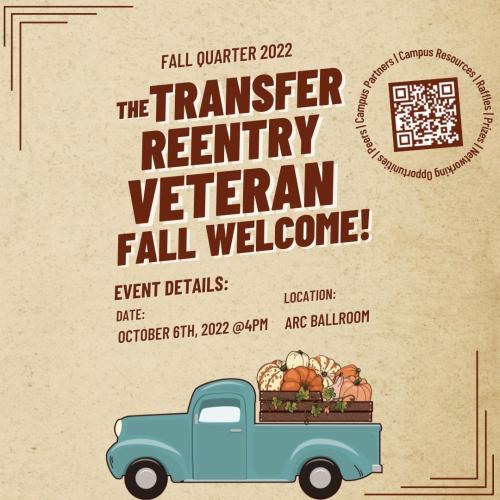 Transfer, Reentry and Veteran Fall Welcome
Hit the ground running by attending the Transfer, Reentry and Veteran Fall Welcome! We are bringing campus resources to meet you!  Visit the resource fair, participate in raffles, and get to know some of the members of the Transfer and Reentry Center and the Veterans Success Center! We are looking forward to supporting the start of your new year at UCD! Thursday, October 6th at 4pm. You don't want to miss out!
Date: Thursday, October 6, 2022
Time: 4:00pm - 6:00pm
Location: ARC Ballrooms A&B
Registration is not required but filling out our Optional Interest Form will help give us an idea of general attendance. 
Veteran Orientation
The transition from community college to UC Davis can be very challenging. Finding a way to connect to UC Davis contributes to overall success. At the beginning for fall quarter, Veteran Orientation provides an opportunity to meet other veterans, answer questions about your benefits, and introduce you to campus resources that will be pivotal to your success.
Military Dependent Orientation
As a military dependent you hold a special place on campus. You are a proud family member of someone who has served, and also a valued member of the UC Davis community. You may have questions about your VA benefits and how they are applied to your education, as well as how to make the most of your time as a student on campus. Attending the Military Dependent Orientation at the beginning for fall quarter is an excellent opportunity to get your questions answered, connect with the VSC staff, and other campus resources who will help make UC Davis your home.
First Year Aggie Connections - Transition Course
First Year Aggie Connections (FYAC) are a great way to meet new transfer and reentry students while learning how the university works. Through the FYAC program, the VSC offers a transition course that introduces students to campus resources and provides the opportunity to connect with other students in a small cohort experience. This course also helps students view their previous military experience as important transferable skills.
Strategies for Academic Success for Student Veterans
2-unit pass/no pass transition course
Veterans bring their talents, skills, and experiences to UC Davis. Once on campus numerous opportunities await them through their academic courses, clubs and organizations, and volunteer and research opportunities. This small cohort course is designed to help student veterans make the most of their time at UC Davis. Students will refine their strategies for goal-setting, time management, and academic planning, while being introduced to campus resources and opportunities beyond the classroom.
For more information about the class, email vaoffice@ucdavis.edu. Or learn more about other FYAC connections that you can join.